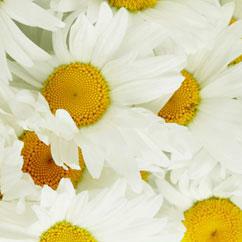 The Egyptian sages dedicated the plant to the sun for its ability to reduce fevers...
Roman chamomile is a versatile and safe oil with a sweet, fruity apple-like scent.
Nature: calming, sedative, balancing
Roman Chamomile is used extensively in skin care for the treatment of acne, boils, burns, cuts, dermatitis, eczema, inflammations, rashes and wounds.
It can be used in a vaporizer for nervous complaints, headaches and migraines.
It is ideal in a massage, bath or compress for arthritis, inflamed joints, muscular pain, rheumatism and sprains.
Principal Actions: Inflammatory conditions; calming to the digestive system; emotional sedative and tonic.