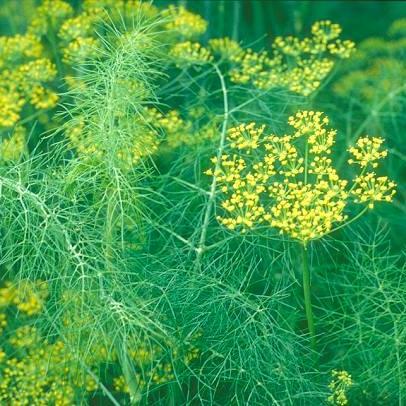 The Hindus and Chinese used fennel as an anti-venomous agent against snake and scorpion bites...
Foeniculum vulgare
Note: Middle
Parts Used: seeds
Source: essential oil by steam distillation. 1. sweet fennel oil is obtained from crushed seeds 2. bitter fennel oil from crushed seeds or the whole herb.
Description and Odor Effect: 1. colorless to pale yellow liquid with a very sweet, anise-like slightly earthy-peppery scent, 2. seed oil is a pale yellow liquid with a sharp, warm camphoraceous odor; the 'weed' oil is pale orange-brown with a sharp, peppery-camphoraceous odor. The odor effect is warming and stimulating.
Nature: warming, stimulating, soothing, balancing, purifying
Blends well with: geranium, lavender, rose, sandalwood
Physical Uses: Sweet fennel oil is used topically for bruises, dull, oily, mature complexions and pyorrhoea (a chronic form of periodontitis). The purifying nature of fennel aids in the reduction of cellulite, obesity, edema and the build-up of toxins in rheumatism. It helps with breathing in cases of asthma and bronchitis. Fennel is used for problems with digestion; anorexia, colic, constipation, dyspepsia, flatulence, hiccough and nausea. Fennel is female balancing – it is said to stimulate the estrogen level, which is useful in helping women experiencing amenorrhoea (absence of menses), menstrual discomforts, premenstrual tension, or menopausal problems; it increases lactation in nursing mothers.
Mental and Emotional Uses: The scent of fennel helps to reduce mental stress and promotes a restful sleep.
Caution: Bitter fennel oil should not be used on the skin at all. Neither oil should be used during pregnancy or with people prone to epilepsy.
Sweet fennel oils is preferred in aromatherapy since it does not contain the harsh 'fenchone' note.
Therapeutic Properties: antibacterial, antidote, antiemetic, antifungal, antiphlogistic, antiseptic, antispasmodic, antitoxic, aperitif, appetite, astringent, calmative, carminative, decongestant, depurative, detoxifier, diaphoretic, digestive, diuretic, emmenagogue, estrogenic, expectorant, galactagogue, hepatic, insect repellent, insecticide, laxative, parasiticide, regulator (female reproductive system), resolvent, revitalizing, stimulant (uterine contractions, estrogen levels), stomachic, tonic, vermifuge
Applications: application, aroma lamp, bath, inhaler, lightbulb ring, massage, mist spray, steam inhalation, steam room and sauna
Keyword: Female Tonic
Fennel Magic: wearing a piece of fennel in the left shoe will prevent wood ticks from biting your legs.
Fennel Harmony
Add these essential oils to 20 ml / 4 teaspoons carrier oil
To even out the menstrual cycle:
4 drops Fennel

4 drops Bergamot

2 drops Rose Otto
AromaworX.ca is free to access and use.
If you appreciate the information provided,
please help keep this website running. Blessings!
"Life is an echo, what you send out comes back."
© 2008-2022 aromaworx.ca. All rights reserved.