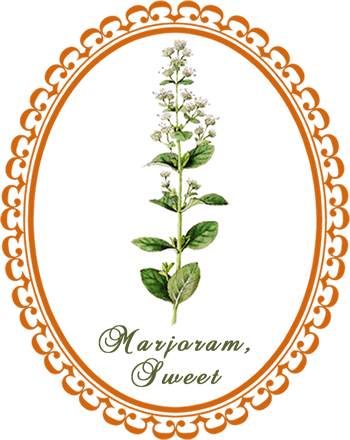 Marjoram: is a versatile herb that has a soothing, warming, fortifying effect; it aids digestive and menstrual problems and eases nervous and respiratory complaints ...
Common Names: Marjoram, Pot Marjoram, Sweet Marjoram
Botanical Name: Origanum majorana
Family: Lamiaceae
Plant Type: Tender perennial or annual, depending on location
Parts Used: Leaves, stalks, and flowers
Flowering: July
Sweet marjoram is a bushy plant native to the Mediterranean area.
Description: The plant grows to a height of about 2 feet, has light-green leaves and white or purple flowers.
Cultivation: Sweet marjoram is a tender perennial native hardy to zones 9-10. In the North it is usually grown as an annual.
Harvesting: Harvest whole plant (excluding roots) and hang in small bunches to dry.
Culinary Uses: Sweet marjoram tastes like a milder oregano and can be substituted for it in recipes. It is widely used in French, Italian, and Portuguese cuisines. Note: Marjoram and oregano are members of the same family and can be interchanged, remembering that oregano has a stronger flavor.
Marjoram Magick
Protection. Love. Happiness. Health. Money.
Gender: Masculine
Planet: Mercury
Element: Air
Use it in love spells, and mix with violets to ward off colds.
Place marjoram plants around your house to shield it from evil.
Add some dried marjoram leaves to your bathwater to relieve grief.
Herbal Healing with Marjoram
Cosmetic Uses: Marjoram has a mild antiseptic action that can be useful in cleansing baths and facials.
Medicinal Actions: Analgesic, anaphrodisiac, antibacterial, antifungal, antioxidant, antiseptic, antispasmodic, antistress, antitussive, antiviral, calmative, carminative, cephalic, cordial, decongestant, detoxifier, diaphoretic, digestive, diuretic, emmenagogue, expectorant, febrifuge, galactagogue, hypotensor, laxative, nervine, restorative, sedative, stomachic, tonic (heart), vasodilator (arterial), vulnerary, warming
Medicinal Uses: Generally taken as a tea, marjoram can be used to relieve asthma, headaches, indigestion and flatulence. It has also been used for menstrual pains, rheumatism and tonsillitis. Employ its antiseptic properties in a gargle to treat mouth ulcers, or to aid in the treatment of external wounds. It is a diaphoretic which can be used in the treatment of colds and flu. Marjoram loosens chest congestion, making it helpful for the treatment of bronchitis and other respiratory ailments. Externally, marjoram oil can be rubbed into muscle aches and sprains, stiff joints and bruises, or used as a poultice.
Caution: Marjoram can be a uterine irritant and should be used with caution during menstruation or pregnancy as it can cause bleeding and cramping.
Body Care with Marjoram
Infusions are a common method of taking marjoram. To make one, pour one cup of boiling water over ¼ cup of fresh herb (or 2 teaspoons of dried herb) and let it stand for 5 minutes. Strain the herbs out, then it is ready to drink. It can be sweetened with a bit of honey if desired.
To make a lotion, place the fresh herb in olive oil and set the jar in the sun for two to three weeks.
AromaworX.ca is free to access and use.
If you appreciate the information provided,
please help keep this website running. Blessings!
"Life is an echo, what you send out comes back."
© 2008-2022 aromaworx.ca. All rights reserved.