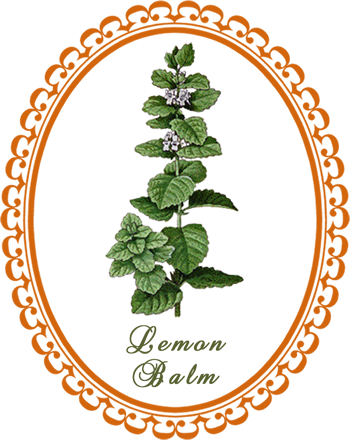 Lemon Balm: is particularly good for indigestion when it has been caused by anxiety and tension ...
Common Names: Lemon Balm
Botanical Name: Melissa officinalis
Family: Lamiaceae
Plant Type: Hardy perennial
Parts Used: Leaves
Flowering: All summer
Native to southern Europe and western Asia, lemon balm likes the mountains, but has also been naturalized in southern England. It is now grown worldwide.
Description: This hardy perennial grows into a bush two to thre feet high with crinkly, serrated, heart-shaped leaves, which taste - and when rubbed - smell of lemon. It blooms all summer and into the autumn. Lemon balm is a shallow-rooted member of the mint family.
Cultivation: Lemon balm grows easily from seed. It grows best in full sun, in average, well-drained soil. It is hardy to zones 4-5.
Harvesting: Best used fresh. Picking stem tips to use fresh will encourage the growing plant to sprout more leaves. To dry, harvest leaves before the plant flowers - the active ingredients will remain after drying but the leaves will loose their lemon scent.
Culinary Uses: Lemon balm combines the tastes of lemon and mint. Use the fresh leaves in salads, fruit dishes, poultry, and fish. Use the dried leaves in tea. Lemon balm is a flavoring ingredient in the liqueurs Benedictine and Chartreuse.
Lemon Balm Magick
Gender: Masculine
Planet: Mercury
Element: Air
Money. Lust. Healing. Travel. Exorcism. Protection
Add dried lemon balm leaves and flowers to love amulets.
To ensure justice and right action prevail, hang a bunch of lemon balm in your home.
To help make your dreams manifest, wrap the lemon balm plant (except the roots) in linen, write down what you want to manifest on a piece of paper, place it in the linen, tie the bundle with a piece of silk thread, and place it on your altar. Say a prayer and know your wishes have already manifested. Bury the bundle once your prayers have been answered.
Herbal Healing with Lemon Balm
Cosmetic Uses: Lemon balm is a good facial cleanser, especially for persons with acne.
Medicinal Actions: analgesic, antibacterial, anticonvulsive, antidepressant, anti-inflammatory, antioxidant, antiputrid, antiseptic, antispasmodic, antistress, antiviral, aperitive, calmative, carminative, cephalic, choleretic, cordial, cytophylactic, diaphoretic, digestive, emmenagogue, febrifuge, galactagogue, hypotensor, insect repellent, nervine, sedative, stomachic, tonic, uplifting, vermifuge, vulnerary
Medicinal Uses: Lemon balm seems to have a mild sedative effect, and to be mildly inhibiting to the growth of bacteria and viruses. It is a strong antispasmodic and wind-dispeller. Lemon balm can help bring down high blood pressure as it stimulates the circulation and calms tension at the same time. The herb has a long tradition as a tonic remedy that acts on the nervous system, calming and cheering.  In aromatherapy it is known by the name Melissa and is widely used for insomnia caused by anxiety.
Body Care with Lemon Balm
To relieve nervous tension, anxiety or depression, take 1 cup lemon balm leaf infusion up to three times daily, for as long as needed.

To ease stress-related high blood pressure or palpatations, take 1 tsp lemon balm tincture three times daily as needed.

To improve your appetite or digestion, or to calm the queasiness of a nervous stomach, take 1 teaspoon lemon balm tincture up to three times daily.
Infusion: 1 teaspoon dried or 2 teaspoons fresh lemon balm leaves in 1 cup just-boiled water.
Tincture: 200 g (7 oz) dried or 400 g (14 oz) fresh lemon balm leaves in 1 litre (4 cups) vodka-water mix.
Healing Combinations with Lemon Balm
For irritable bowel and similar problems, use it with comfrey (Symphytum), German chamomile (Matricaria) and peppermint (Menth piperita)
For gastritis and stomach ulcers, try it with licorice (Glycyrrhiza), meadowsweet (Filipendula) and marshmallow (Althaea)
For anxiety and mild depression, use it with St. Johns wort (Hypericum), valerian (Valeriana) or borage (Borago)
AromaworX.ca is free to access and use.
If you appreciate the information provided,
please help keep this website running. Blessings!
"Life is an echo, what you send out comes back."
© 2008-2022 aromaworx.ca. All rights reserved.