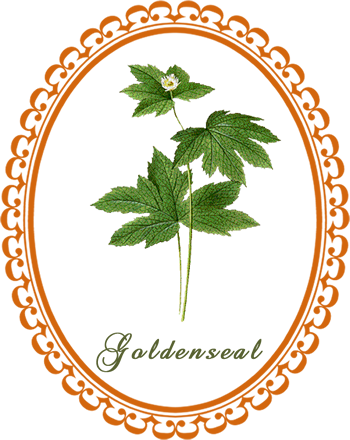 Goldenseal: has mild antiseptic, sedative, and muscle relaxant properties. It is primarily used as an anitibiotic and for digestive purposes ...
Common Names: Goldenseal, Eye Balm, Eye Root, Indian dye, Indian paint
Botanical Name: Hydrastis canadensis
Family: Ranunculaeae
Plant Type: Hardy perennial
Parts Used: Dried leaves and stems, rhizomes (underground stems), roots
Flowering: April
Native to eastern North America, goldenseal grows wild in the rich soil of damp meadows and shady, moist woodlands from Connecticut to Minnesota and southward. In Canada it occurs chiefly in Ontario.
Description: Goldenseal is a small perennial woodland herb with a knotty rhizome that sends up two or more erect, hairy stems, each typically ending in a fork with two leaves. The rootstock consists of an irregularly knotted, thin horizontal root, marked with scars from previous year's flowerstem. The large, soft leaves are deeply divided into five to seven lobes. A small, solitary greenish-white flower is produced at the end of each stem in April that develops into a fruit. The fruit ripens in July and has the superficial appearance of a raspberry with small, fleshy, red berries containing 1 or 2 black, shiny seeds. The berry is not edible.
Cultivation: Goldenseal is a woodland plant. It prefers to grow in a rich, moist, loamy soil in two-thirds shade. It is a very difficult plant to cultivate for the casual gardener. Grow from seed or from a root piece with a growing bud.
Harvesting: Harvest roots in the second autumn. Use fresh, or dry.
Goldenseal Magick
Healing. Money.
Gender: Masculine
Planet: Sun
Element: Fire
Burn as an incense to deepen your meditations.
To attract money, add a small piece of dried goldenseal to an amulet.
Put a piece of root on your altar to help you deepen your connection with spirit.
Hold a piece of goldenseal in your right hand to make your magical ritual more effective.
Sprinkle some dried goldenseal in your mop water to purify your home and release any negativity.
Herbal Healing with Goldenseal
Medicinal Actions: Antibiotic, anti-inflammatory, antimicrobial, astringent, cholagogue, stimulant (digestive system)
Medicinal Uses: Goldenseal is hepatic, cholagogue, a bitter digestive stimulant, and a primary antimicrobial for acute infection. It promotes glandular function, and is an invaluable tonic stimulant for overrelaxed, profusely secreting mucous membranes; having a wide effect on the respiratory, digestive, and genito-urinary systems. It has an anti-catarrhal effect, especially in sinus conditions. Extract of goldenseal is used to lower blood sugar levels. Goldenseal eyewash is especially effective against staph aureus and reduces inflammation. Goldenseal improves blood supply to the spleen, which filters our blood to remove impurities.
Contraindications / Cautions:
Check with a modern herbalist prior to using goldenseal and avoid it altogether during pregnancy.

Never use this herb for more than a week at a time, as large quantities can accumulate in the system and cause serious side effects ranging from nausea, vomiting, and diarrhea to convulsions, respiratory failure, paralysis, and even death.
Nature at Risk: because of over-collecting and habitat destruction, goldenseal is listed as endangered or threatened in twelve of the twenty-two states in which it occurs. In 1997, the herb was listed on Appendix II of the Convention for International Trade on Endangered Species (CITES). In some states, harvesting goldenseal on public lands is illegal. Use substitute plants, or commercially cultivated goldenseal when possible.
Tip: Because of the price that the root still commands today, products containing it are susceptible to adulteration. Some supplements sold as "goldenseal herb" may contain goldenseal leaves rather than roots. The leaves have approximately one-tenth the amount of active alkaloids found in the roots.
Body Care with Goldenseal
To treat mouth ulcers, gum disease and sore throats, gargle with 1 teaspoon goldenseal tincture in a glass of warm water three times daily.
To ease skin inflammation, especially in eczema or measles, bathe the affected areas with 1 teaspoon goldenseal tincture in 1/2 cup water.
Tincture: 200 g (7 oz) dried or 400 g (14 oz) fresh goldenseal root in 1 litre (4 cups) vodka-water mix.
Source: The Essential Herbs Handbook by Lesley Bremness
AromaworX.ca is free to access and use.
If you appreciate the information provided,
please help keep this website running. Blessings!
"Life is an echo, what you send out comes back."
© 2008-2022 aromaworx.ca. All rights reserved.