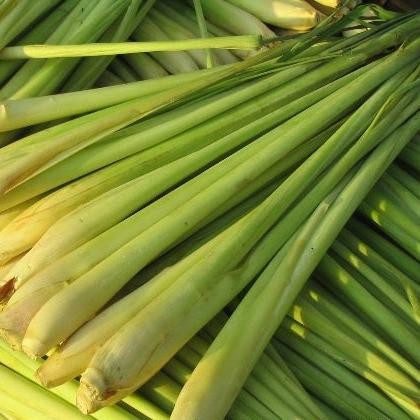 Lemongrass is used in perfumery, to fragrance skin care products and soaps, and as a flavoring agent in cooking, soft drinks, candy, ice cream, and baked goods...
Cymbopogon citratus (West Indian Lemongrass)
Cymbopogon flexuosus (East Indian Lemongrass)
Note: Top
Parts Used: Leaves (grass)
Source: steam distillation from the fresh and partially dried leaves (grass), finely chopped from the fast growing, tall, aromatic perennial grass native to Asia that grows up to 1.5 metres.
Description and Odor Effect: 1. Cymbopogon citratus (West Indian lemongrass) a yellow, amber or reddish-brown liquid with a fresh, grassy-citrus scent and an earthy undertone. 2. Cymbopogon flexuosus (East Indian lemongrass) a yellow or amber liquid with a fresh, grassy-lemony scent, generally lighter than the West Indian variety.
Nature: uplifting, stimulating
Blends well with: eucalyptus, geranium, jasmine, juniper, lavender, peppermint, rosemary, rose
Physical Uses: Lemongrass is used on the skin for acne, athlete's foot, excessive perspiration and to tighten open pores. It acts as an insect repellent (fleas, lice, ticks) and as a treatment for pediculosis (lice infestation), scabies, and ringworm. Lemongrass reduces inflammation and swollen tissues; it improves muscle tone by contracting weak connective tissue, firming up slack skin tissue. It is stimulating for poor circulation. Lemongrass improves digestion, is used in the treatment of colitis, gastroenteritis, infectious diseases, and in the reduction of fevers.
Mental and Emotional Uses: Lemongrass is mood uplifting; it is reviving and improves alertness. It is balancing to the nervous system; it has a calming effect for headaches, nervous exhaustion, stress related conditions and promotes a restful sleep.
Caution: Use small amounts.
To clear mental clutter and improve mental clarity, place a drop of lemongrass essential oil on a tissue and inhale.
Therapeutic Properties: abortifacient, analgesic, antibacterial, antidepressant, antidiabetic, antifungal, antioxidant, antiseptic, antispasmodic, aperitive, astringent, calmative, carminative, deodorant, deodorizer, depurative, diaphoretic, digestive, disinfectant, diuretic, emmenagogue, expectorant, febrifuge, galactagogue, hypotensor, insect repellent, insecticide, nervine, parasiticide, regulator (parasympathetic system), reviving, sedative, stimulant (circulatory system), stomachic, tonic, tonifying (skin)
Application: application, aroma lamp, diffusor, inhaler, lightbulb ring, massage, mist spray, vaporise
Keyword: Astringent
In Latin America, a leaf tea is taken for the stomach, lung congestion, urinary spasms, muscle and joint aches, colds, fevers, flu, headaches, nervousness, and to lower blood pressure. The leaves are chewed to relieve toothaches. The sap from the plant is made into a compress for eye infections. The rhizome tea is used as a mouthwash to help the gums and teeth.
Lemongrass Magic: lemongrass planted around the home and in the garden will repel snakes. it is also used in some lust potions, as well as in an infusion to aid in developing psychic powers.
Lemongrass Harmony
Add these essential oils to 20 ml / 4 teaspoons carrier oil
To ease indigestion or stomach tension:
2 drops Lemongrass

4 drops Coriander Seed

4 drops Mandarin
AromaworX.ca is free to access and use.
If you appreciate the information provided,
please help keep this website running. Blessings!
"Life is an echo, what you send out comes back."
© 2008-2022 aromaworx.ca. All rights reserved.