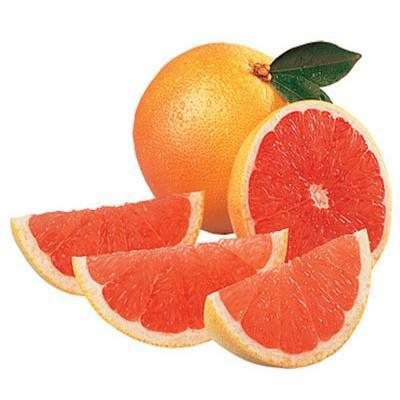 Scientist believe the grapefruit tree developed as a mutation from the pomelo fruit...
Citrus paradisi
Note: Top
Parts Used: rind
Source: cold expression from the fresh peel of the fruit from the cultivated tree which often grows over 10 metres tall and is believed to have derived from a cross between a large citrus fruit called a pomelo (Citrus maximus) and the sweet orange (Citrus sinesis).
Description and Odor Effect: yellowish or greenish liquid with a fresh, sweet, citrus aroma. Its odor effect is uplifting and anti-depressant.
Nature: uplifting, soothing
Blends well with: lemon, palmarosa, bergamot, neroli, rosemary, cypress, lavender, geranium, cardamom and other spice oils
Physical Uses: Grapefruit is used in skin care for acne, congested and oily skin; it promotes hair growth, tones the skin and tissues, is detoxifying for cellulite, obesity, water retention, general body stiffness; stimulating for exercise preparation and muscle fatigue.
Mental and Emotional Uses: The cheerful scent of grapefruit is uplifting for depression, headaches, nervous exhaustion and performance stress.
Caution: Grapefruit is phototoxic; avoid exposure to direct sunlight for several hours after applying the oil on the skin.
Therapeutic Properties: antibacterial, antidepressant, antiseptic, antistress, antitoxic, aperitif, aperitive, astringent, balancing (central nervous system), cephalic, cholagogue, depurative, detoxifier, digestive, disinfectant, diuretic, hemostatic, resolvent, restorative, reviving, stimulant (digestive and lymphatic systems, and neurotransmitters), tonic (liver), tonifying (skin)
Application: application, aroma lamp, bath, diffusor, inhaler, lightbulb ring, massage, mist spray
Keyword: Cheering
To detoxify the body's systems (lymphatic and the kidneys) and to reduce cellulite, mix Grapefruit with Juniper Berry and Angelica Root in a carrier oil and apply the blend to the affected areas (usually the thighs).
Grapefruit Harmony
Add these essential oils to 20 ml / 4 teaspoons carrier oil
For a body detox:
4 drops Grapefruit

4 drops Juniper Berry

2 drops Angelica Root
AromaworX.ca is free to access and use.
If you appreciate the information provided,
please help keep this website running. Blessings!
"Life is an echo, what you send out comes back."
© 2008-2022 aromaworx.ca. All rights reserved.