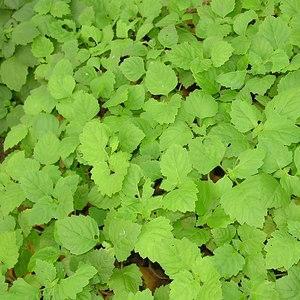 Because the oil makes a great base note, it is used in more than one out of three perfume blends...
Pogostemon cablin
Note: Base - 100
Parts Used: dried leaves from bush about 1 metre high
Source: steam distillation of the dried leaves of the bushy plant native to tropical Asia. Most of the oil is produced in India, China, Malaysia and South America
Description and Odor Effect: an amber, slightly viscous liquid with a rich, earthy, woodsy scent, becoming sweeter as it ages. Its odor effect is warming, stimulating and a reputed aphrodisiac.
Nature: uplifting, soothing, balancing
Blends well with: bergamot, cedarwood, clary sage, clove, geranium, jasmine, lavender, lemon, neroli, rose, ylang ylang. If used in small amounts, patchouli blends well with most oils and is one of the best perfume fixatives.
Physical Uses: Patchouli is an effective oil in the treatment of athletes foot and yeast infections. The cell regenerating action of patchouli is excellent for dry/mature skin, abscesses, acne and in hair care. It is anti-inflammatory, aids in relieving fluid retention, and useful both as an insect repellent, and in the treatment of stings.
Mental and Emotional Uses: The odor of patchouli is very uplifting, alluring and seductive; the anti-depressive qualities alleviate anxiety, nervous exhaustion and stress-related disorders.
Caution: Do not overuse
The oil ideally needs to be at least two or three years old for perfumery purposes. Only small amounts are needed as it has an intense earthly aroma.
Therapeutic Properties: alterative, analgesic, antibacterial, antidepressant, antiemetic, antifungal, anti-inflammatory, antiphlogistic, antiseptic, antistress, antitoxic, antiviral, aphrodisiac, astringent (strong), calmative, carminative, cicatrizant (strong), cytophylactic, decongestant, deodorant, diaphoretic, digestive, diuretic, febrifuge, fixative, insect repellent, insecticide, laxative, memory stimulant, nervine, parasiticide, regenerator (skin tissue), sedative (large amounts), stimulant (small amounts) (nerves), stomachic, tonic
Applications: massage, mouthwash, bath oil, body oil, face oil, compress, deodorizer, vaporize, room fragrance
Keyword: Pervasive
Patchouli Magic: inhale to encourage clairvoyance or to attract money. Used to enhance sexuality and release inhibitions.
Patchouli Harmony
Add these essential oils to 20 ml / 4 teaspoons carrier oil
To increase sexual energy and encourage emotional confidence:
2 drops Patchouli

2 drops Rose Absolute

6 drops Sweet Orange
AromaworX.ca is free to access and use.
If you appreciate the information provided,
please help keep this website running. Blessings!
"Life is an echo, what you send out comes back."
© 2008-2022 aromaworx.ca. All rights reserved.