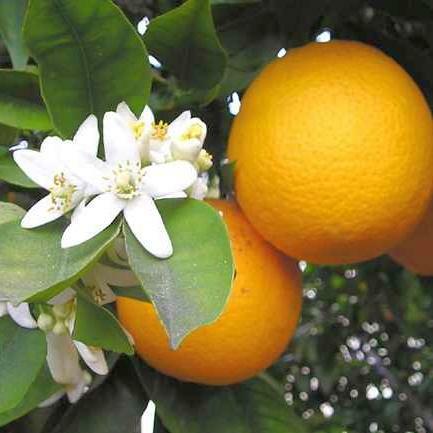 The oil from the rind is added to wood-care products to protect against insect damage...
Citrus aurantium
Note: Top - 7
Parts Used: oil from peel of fruit
Source: expression of the fresh ripe peel of the fruit of the small evergreen tree native to the Far East. Inferior grade steam distilled oil, obtained from the fruit pulp, is also available. Most of the oil is produced in Italy, Tunisia, Morocco and France.
Description and Odor Effect: a pale yellow liquid with a warm, sweet citrus scent. Its odor effect is uplifting, gentle and refreshing.
Nature: uplifting, soothing
Blends well with: benzoin, cinnamon, clary sage, cypress, geranium, juniper, lavender, lemon, myrrh, nutmeg, petitgrain, sandalwood, ylang ylang
Physical Uses: Orange is antiseptic, contains vitamin C and is helpful for colds, influenza and bronchitis. As a digestive and stomachic it can be used to ease indigestion, constipation and chronic diarrhoea. It is a lymphatic stimulant, so it acts as a general detoxifier and can be added to skin lotions as an aide for oily skin conditions. It is reportedly useful in growth and repair of skin. Its soothing agents help with headache and as a muscle relaxant.
Mental and Emotional Uses: The mild sedative properties of orange relieve insomnia, anxiety, nervous tension and stress-related disorders. The glowing sunny essence of orange encourages joy and alleviates depression.
Caution: Phototoxic – avoid exposure to direct sunlight for several hours after applying the oils on the skin.
Try to use orange essential oil within one year of purchase as the aroma rapidly deteriorates with age.
Therapeutic Properties: antibacterial, anticoagulant, antidepressant, antiemetic, antifungal, anti-inflammatory, antipyorrhea, antiscorbutic, antiseptic, antispasmodic, antistress, antitoxic, antitussive, antiviral, aperitif, aperitive, astringent, calmative, carminative, cholagogue, choleretic, depurative, digestive, disinfectant, diuretic, expectorant, febrifuge, hemostatic, hepatic, hypotensor, hypnotic, laxative, nervine, refreshing, sedative, stimulant (digestive and lymphatic systems), stomachic, tonic, vasoconstrictor, vulnerary
Applications: massage, body oil, face oil, bath, mouthwash, compress, vaporize, air spray, burner, deodorizer
Keyword: Radiance
Orange Magic: When you eat an orange, think of a question you want answered; it must be a yes/no question. Count the seeds in the orange: if they are of an even number, the answer is no. If odd, yes.
Sweet Orange Harmony
Add these essential oils to 20 ml / 4 teaspoons carrier oil
To stabilize mood:
4 drops Sweet Orange

4 drops Australian Sandalwood

2 drops Rose Absolute
AromaworX.ca is free to access and use.
If you appreciate the information provided,
please help keep this website running. Blessings!
"Life is an echo, what you send out comes back."
© 2008-2022 aromaworx.ca. All rights reserved.