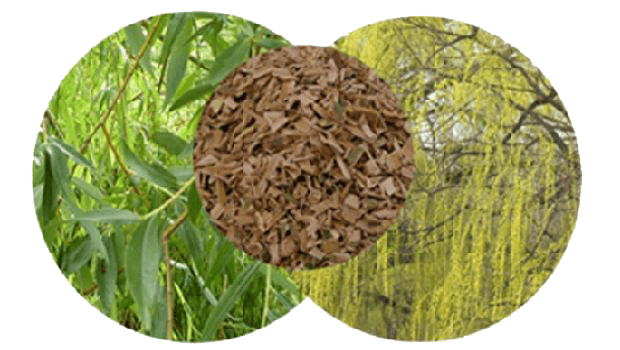 How to Use White Willow Bark
A precursor to aspirin and used for many of the same ailments, white willow bark relieves the pain and inflammation of headaches, osteoarthritis, lower back pain and tendinitis without the stomach upset often caused by aspirin. This safe, effective herb has been used for medicinal purposes since the time of Hippocrates. It can be administered as a tea, as a tincture or in capsule form to relieve pain, reduce fever and alleviate swelling.
Instructions: Things You'll Need
Chipped or powdered white willow bark
1.Determine if you would benefit from taking white willow bark. If you suffer from lower back pain, osteoarthritis, headaches or tendinitis but don't like the stomach upset aspirin sometimes causes, consider the benefits of switching to white willow bark. White willow bark also relieves menstrual cramps without causing flooding.
2.Discuss with your doctor any concerns you may have about taking white willow bark. Though white willow bark is considered safe and effective, it should be avoided by women who are pregnant or nursing, young children under 2, and teens and children under 16 with flu or chicken pox symptoms. It may also cause negative drug interactions in those taking nonsteroidal anti-inflammatory drugs, bismuth subsalicylates such as Pepto-Bismol, carbonic anhydrase inhibitors, metoclopramide or platelet inhibitors.
3.Purchase white willow bark in powdered or chipped form. You can find it in bulk in most health food stores, or order it online. White willow bark is also sold in convenient capsule form in many health food stores and vitamin outlets.
4.Decide on a preparation method. You can brew white willow bark as a tea, make a tincture or take it in capsule form. Tinctures take approximately two weeks to prepare, so choose tea or capsule form for immediate use.
5.Brew chipped or powdered bark into a tea, drinking two to three cups per day. Use 2 tbsp. of bark per 8 oz. of water. Bring to a boil, let simmer for 15 minutes, then let steep for at least 30 minutes before drinking. Because white willow bark has a strong, bitter flavor, you may want to add lemon, honey or sugar to mask the taste.
6.Distill chipped bark it into a 1:5 (one part bark to five parts solvent) 30-percent alcohol tincture. Grain alcohol is most often used as solvent, though vinegar can be substituted instead. Seal mixture into an airtight container then store for two weeks. Strain the bark from the mixture by pouring it through cheesecloth. Take doses of 4 to 6 mL straight or mixed with water, juice or tea, three times daily.
Source Here
White Willow Bark Tea
Found: Europe and western and central Asia.
Family: Salicaceae.
Active Ingredients: Phytochemicals: Apigenin, beta-carotene, catechin, isoquercitrin, lignin, p-coumaric acid, quercitrin, rutin, salicin, salicylic acid, tannin.
Nutrients: Calcium, iron, mangenese, magnesium, phosphorus, potassium, selenium, zinc, vitamins B1, B2, B3, and C.
Also Known As: Salix alba, white willow, willow bark.
White Willow Bark is a useful herb for digestion as it is both rich in salicin and tannins. It is a valuable anti-inflammatory and also reduces fevers, eases headaches and helps with the symptoms of rheumatism and arthritis. White willow helps to thin the blood making it a useful preventative for those at risk of blood clots. CAUTION If you are taking anticoagulant drugs consult your doctor / herbalist before taking white willow bark.
Hot infusion
Preparing a hot infusion white willow bark tea requires several steps.
(1) Fill one tea infuser full of the white willow bark tea herbs.
(2) Pour one cup of boiling water over the herbs.
(3) Cover the cup to ensure all the volatile oils & aromas in the white willow bark tea herbs do not escape.
(4) Allow the herbs to infuse for 3-5 minutes, then sip
100g (approx 80 cups of tea)
200g (approx 160 cups of tea)
Learn More about White Willow
AromaworX.ca is free to access and use.
If you appreciate the information provided,
please help keep this website running. Blessings!
"Life is an echo, what you send out comes back."
© 2008-2022 aromaworx.ca. All rights reserved.