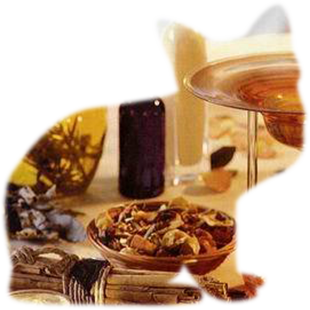 Taking a bath is one of the best ways to indulge yourself and promote self-healing at the same time. A tranquil, relaxing bath can work wonders on your mood. A hot bath can help to combat the early onset of ailments such as the common cold. A quick, cold bath can invigorate and provide a "pick me up" when we feel like we are in a slump.
The skin is our largest organ of elimination, so we can help our body's natural healing ability along by introducing natural bath products and essential oils to our bath time.
Types of Baths
Hot baths: 38 – 40˚C (100-104˚F) for 10-15 minutes only. This bath increases perspiration and the rate of breathing, reduces fevers and eliminates toxins. Wrap up in blankets after the bath and drink the appropriate herb teas during and after.
Warm baths: 27-34˚C (80-93˚F) soak for 20 – 60 minutes. This bath is calming and relaxing.
Cold baths: 21 – 27˚C (70-80˚F) soak for 2-5 minutes only. This bath improves breathing and muscle tone, decreases fatigue, improves thyroid function, tones skin and relieves constipation.
Bathing with Herb Oils
Don't be tempted to use more than 8 – 10 drops of essential oil in a full bath.
To avoid floating unmixed oil its best to mix the oil with either 1 tablespoon full cream, milk or almond oil before adding. Run the bath and add oils just before getting into the bath or the precious essences may evaporate before you can get the full benefit.
Oil Suggestions for Baths
Antibacterial: 3 drops tea tree, 3 drops eucalyptus, 2 drops thyme, 1 drop lemon
Antiviral: 3 drops tea tree, 3 drops eucalyptus, 3 drops lavender, 1 drop thyme
Deodorizing: 4 drops sage, 2 drops eucalyptus, 2 drops tea tree, 2 drops peppermint
Dry skin: 4 drops chamomile, 4 drops geranium, 2 drops patchouli
Greasy skin: 5 drops lemon, 3 drops ylang ylang, 2 drops cypress
Spotty skin: 2 drops eucalyptus, 2 drops thyme, 4 drops lavender, 2 drops chamomile
Head clearing: 2 drops peppermint, 2 drops lemon, 1 drop thyme, 2 drops rosemary
Hydrating: 2 drops chamomile, 2 drops lavender, 2 drops carrot, 2 drops geranium, 2 drops rose (optional)
Just A-h-h-h-h-h!: 1 drop lavender, 2 drops grapefruit, 2 drops geranium, 2 drops ylang ylang, 2 drops patchouli
Rejuvenating: 4 drops lavender, 3 drops rosemary, 2 drops peppermint
Relaxing: 4 drops chamomile, 3 drops lavender, 3 drops ylang ylang
Rise and shine: 2 drops bergamot, 3 drops orange, 3 drops lemon, 1 drop peppermint, 1 drop cinnamon
Slimming: 3 drops sage, 3 drops petitgrain, 2 drops grapefruit, 2 drops lavender
Mild sun burn: 8 – 10 drops lavender
Bath Lotions and Vinegars
Nothing is cheaper, easier or more satisfying to make than these herbal vinegars. Vinegar restores the acid mantle to the skin, relieves dryness, itching and the pain of sunburn. Cider vinegar seems to have the most therapeutic properties but good quality white vinegar can be used. For skin tonics white vinegar is more gentle and refined.
If you really hate the smell of vinegar you can substitute vodka (mixed equally with water) or white wine. These last two are more expensive but the perfume of the oils is more apparent.
The bath herbal vinegars listed below may also be used as:
Hair rinses: add ½ cup (125 ml / 4 fl oz) of bath vinegar to 4 cups (1 litre / 32 fl oz) water
Skin tonics: add 1 tablespoon of bath vinegar to ½ cup (125 ml / 4 fl oz) water
After-shower friction rub: add ½ cup of bath vinegar to 1 cup of water.
Deodorant: use undiluted
Herbal Bath Vinegar
Mix 500 ml (16 fl oz) cider or white wine vinegar with 100 drops mixed or single essential oil. Choose from the following blends.
Lavender
Citrus Sensation
30 drops lemon
25 drops petitgrain
20 drops bergamot
20 drops orange
5 drops clove
Mint Tang
40 drops peppermint
40 drops spearmint
15 drops lavender
5 drops clove
Herb Spice
40 drops clary sage
40 drops rosemary
10 drops fennel
10 drops anise
Forest Fantasy
40 drops pine
20 drops hyssop
20 drops lemon
10 drops cypress
10 drops peppermint
Caution: sometimes essential oils in your bath can do more harm than good to your skin. The strong fragrance components can irritate your skin, especially in the vaginal area. Among the safer essential oils used in bath oils and milks are lavender, sandalwood, chamomile, spruce and rose. Citrus oils, as well as jasmine, bergamot, and sage have more irritation potential. Plant extracts and infusions can be used instead of oils.
Perfume Oil Bubble Bath
The oils for this recipe can be chosen from the suggestions for herbal bath vinegar.
¼ cup (60 ml / 2 fl oz) olive or almond oil
1 cup (250 ml / 8 fl oz) good quality shampoo or detergent
4 drops essential oil blend
Mix all ingredient s together very thoroughly. Bottle and invert bottle several times to mix contents before using. Slowly trickle ¼ - ½ cup of the mixture under a fast running tap to maximize the bubbles.
Bath Cream
This cream needs refrigeration and should be used within 2 weeks. It is easy to make and leaves the skin soft and moisturized. Don't add it to very hot water or the egg will set and go stringy. The oil disperses in the water and doesn't leave a greasy ring around the tub.
Lavender Cream
Beat the egg, olive oil, glycerin and dried milk together in a bowl. Add the oils while beating.  Beat the water in, a little at a time. Store in the refrigerator. Add ¼ - ½ cup to bath water. Swoosh to disperse.
Bath Salts
By carefully blending gentle essential oils, you can supercharge your bathing ritual. You can create wonderfully inexpensive and 100 percent green bath salts by adding blends of essential oils to Epsom or Dead Sea salts, which are especially good if you have psoriasis or seborrhea.
Old Fashioned Girl
100 g (3 ⅓ oz) tartaric acid
100 g (3 ⅓ oz) bicarbonate of soda
50 g (1 ⅔ oz) arrowroot powder
Mix the powders together well. Add the oils drop by drop, stirring all the time to prevent caking. Place all in a jar and shake daily for a few days. Sprinkle ¼ - ½ cup into the bath as it is running.
Bath Oil
Sleep Well Bath Oil
This oil is semi-dispersible which means the oil will almost dissolve in the bath water.
2 teaspoons chamomile oil
1 teaspoon sandalwood oil
Mix all the ingredients together in a bottle and shake well. Add ½ - 1 teaspoon to the bath; any more and you might overdose on the powerful fragrance or you may even become enlightened and float off the planet! You'll find your sleep will be refreshing.
AromaworX.ca is free to access and use.
If you appreciate the information provided,
please help keep this website running. Blessings!
"Life is an echo, what you send out comes back."
© 2008-2022 aromaworx.ca. All rights reserved.