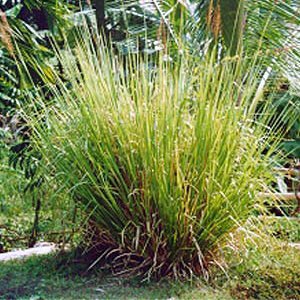 In Russia, the oil is placed in sachets and sewn into the linings of fur coats to protect against damage caused by moths...
Vetiver is a warming, grounding oil with a persistent and deep woody, earthy overtone and smoky undertones.
Only a small amount is needed, or the aroma takes over.
Nature: soothing, warming
The scent of vetiver is deeply relaxing, aiding those with insomnia or nervous tension.
Ideal in a bath or massage to loosen tight or stiff muscles.
Principal Actions: Immune system stimulant; tonic for liver and pancreas; grounding and sedative.
Practical Uses
Methods of Use: skin oil/lotion, aroma lamp, bath, inhalation, massage, mist spray
Skin Care with Vetiver
The astringent properties of vetiver is helpful for greasy/oily skin and scalp conditions; and the analgesic ant tonic properties of vetiver can be used in the topical relief of urticaria (an acute or chronic condition of the skin, usually caused by an allergic reaction, characterized by pale or reddened irregular, elevated patches and severe itching, stinging and burning; hives, nettle rash)
For Oily Skin/Scalp: Mix 2 drops vetiver, 2 drops clary sage, 3 drops sandalwood and 3 drops lavender in 20ml/4 tsp of a light carrier oil such as grapeseed and apply to affected areas.
For Urticaria: Mix 2 drops vetiver, 4 drops Roman chamomile, 4 drops peppermint in 20ml/4tsp carrier oil and apply to affected areas.
Circulation, Muscles & Joints
Vetiver can be added to massage blends or used in the bath to relieve arthritis, muscular aches and pains, rheumatism, sprains and muscle stiffness.
To relieve/soothe a tired, achy body: Mix 2 drops vetiver, 2 drops black pepper, 2 drops rosemary and 4 drops sweet marjoram in 20ml/4 tsp carrier oil and massage into aching muscles.
Digestive System
Vetiver is carminative (settles the digestive system) and is a general tonic for the digestive system; it is particularly helpful for liver congestion, and can be added to a bath or general massage blend to balance pancreas secretion insufficiency.
For Liver Congestion: Mix 4 drops vetiver and 4 drops grapefruit in 20ml/4tsp carrier oil and rub into the abdomen using clockwise, circular strokes.
Nervous System
Vetiver has a woody, earthy aroma and a subtle, deeply relaxing effect - valuable in massage and baths for anybody experiencing stress. The grounding scent of vetiver calms nervousness and promotes a restful sleep; useful for conditions of debility, depression, insomnia and nervous tension.
Relaxation Blend: Mix: 2 drops vetiver, 2 drops jasmine, 2 drops bergamot 4 drops sandalwood and use in a bath, or add to 20ml/4tsp carrier oil and use in a massage.
Vetiver in Aromatherapy
Botanical Name: Vetiveria zizanoides
Note: Base
Parts Used: roots and rootlets
Source: steam distillation of the roots and rootlets - washed, chopped, dried and soaked. Vetiver is a small, tufted perennial, scented grass native to south India, Indonesia and Sri Lanka. The oil is mainly produced in Java, Haiti and Reunion; some is distilled in Europe and the USA.
Description and Odor Effect: a dark-brown, olive or amber viscous oil with a deep, smoky, earthy-woody odor and a sweet persistent undertone. The color and scent can vary according to the source.
Blends well with: clary sage, jasmine, lavender, oakmoss, patchouli, rose, sandalwood, violet, ylang ylang
Applications: application, aroma lamp, bath, inhaler, lightbulb ring, massage, mist spray
Therapeutic Properties: abortifacient, analgesic, anthelmintic, antibacterial, anti-inflammatory, antiseptic, antispasmodic, antistress, aphrodisiac, astringent, calmative, cardiotonic, carminative, detoxifier, diaphoretic, diuretic, emetic, emmenagogue, insect repellent, insecticide, nervine, parasiticide, revitalizing, rubefacient, sedative, stimulant (immune system), stomachic, tonic, vermifuge
Safety Data: Non-toxic, non-irritant, non-sensitizing; safe for all skin types. Avoid during pregnancy. Keep out of reach of children. If nursing, taking medication, or have a medical condition, consult a healthcare practitioner prior to use.
Caution: Avoid during pregnancy. The roots yield a small amount of oil, and as such, it is often adulterated with synthetics.
Vetiver – Quick Reference
Skin: acne, cuts, oily skin, wounds
Circulation, Muscles & Joints: arthritis, muscular aches and pains, rheumatism, sprains, stiffness
Digestive: liver congestion, pancreas secretion insufficiency
Nervous: debility, depression, insomnia, nervous tension
Keyword: Harmonising
Did you know ... In India and Sri Lanka the essence is known as 'the oil of tranquility'
Vetiver Harmony
Add these essential oils to 20 ml / 4 teaspoons carrier oil
To penetrate the muscles and ease physical tension:
2 drops Vetiver

4 drops Cardamom

4 drops Sweet Orange
AromaworX.ca is free to access and use.
If you appreciate the information provided,
please help keep this website running. Blessings!
"Life is an echo, what you send out comes back."
© 2008-2022 aromaworx.ca. All rights reserved.